Leading group risk insurer, Unum, has published its annual claims statement with information on every new group income protection (GIP) claim it paid in the last year. For the first time, it includes data on the differences in claims made by men and women at different stages of their lives.
Unum's claims statement reveals that while claims increase greatly with age, high numbers of women claim throughout their working lives with younger working women are particularly affected by mental health problems.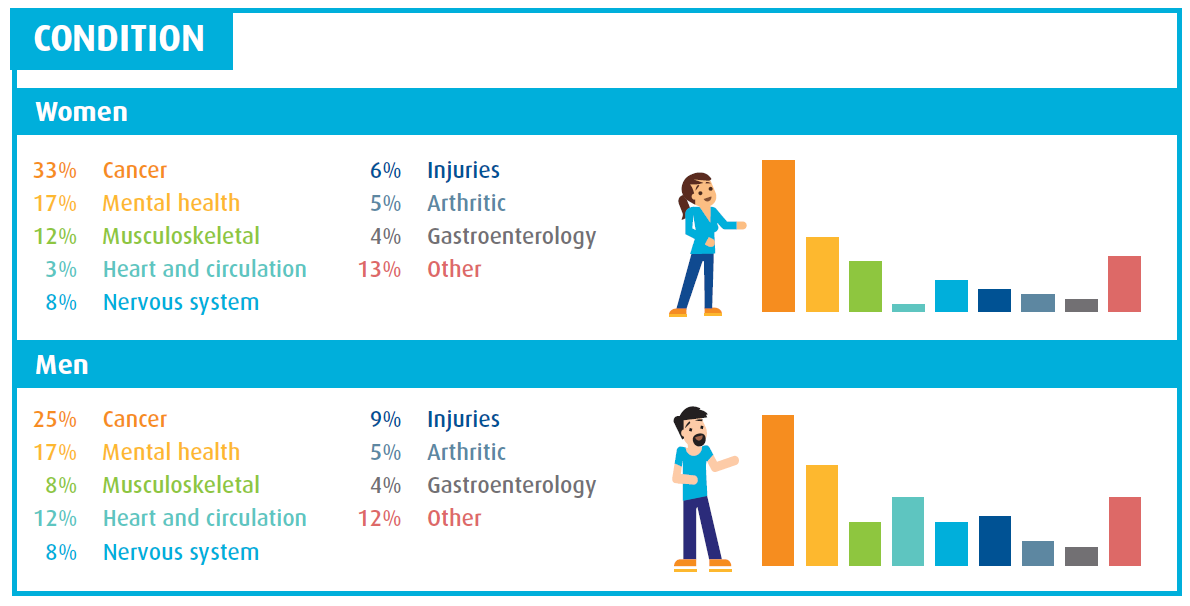 Unum's third annual claims statement summarises data on all the 1722 GIP claims itpaid in the year 1 August 2016 to 31 July 2017.
One of the main points of the Claims Statement is how it highlights just how valuable a staff benefit of having a group income protection policy is for workers on lower salaries, especially women. Almost a third of women (30%) who claim earn under £20,000 and more than half (56%) earn under £30,000. Overall, a fifth of new claims (21%) are made by men and women earning under £20,000.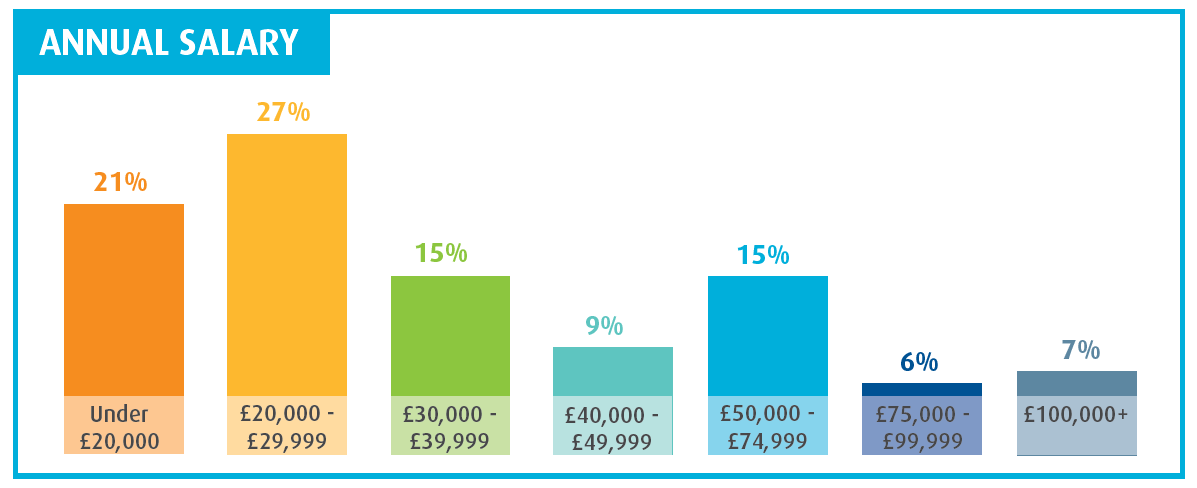 While both working men and women are more likely to acquire serious health problem as they age, the increase in claims with age is much higher among men. 59% of men claiming are 50 years old or over and just 18% are under 40.
Women are under-protected compared to men – only 37% of those Unum covers are women and they make up 44% of claims1. They are also more likely to face serious health problems earlier in their working lives than men and this is reflected in GIP claims – 28% of women claiming are under 40, another 28% are in their forties and 45% are 50 or over. 59% of men claiming were aged 50 plus.
Mental health problems seem to be a particular issue for younger working women and older working men. 42% of women making a mental health claim were under 40 compared to 21% of men. 42% of men making a mental health claim were over 50 years old (31% for women).
The statement also reveals the most common conditions men and women claim for. Cancer and mental health problems are the biggest causes of long term sickness absence among men and women. Exactly a quarter of claims made by men and a third of those made by women are for cancer. 17% of claims made by both genders are for mental health problems, such as stress, depression and anxiety.
Cardiovascular and circulatory problems are the third most common condition for men (12% of their claims) but ranks eighth for women (3%). Musculoskeletal problems are the third most common reason women claim (12%) and the third most common condition overall (10% of all claims).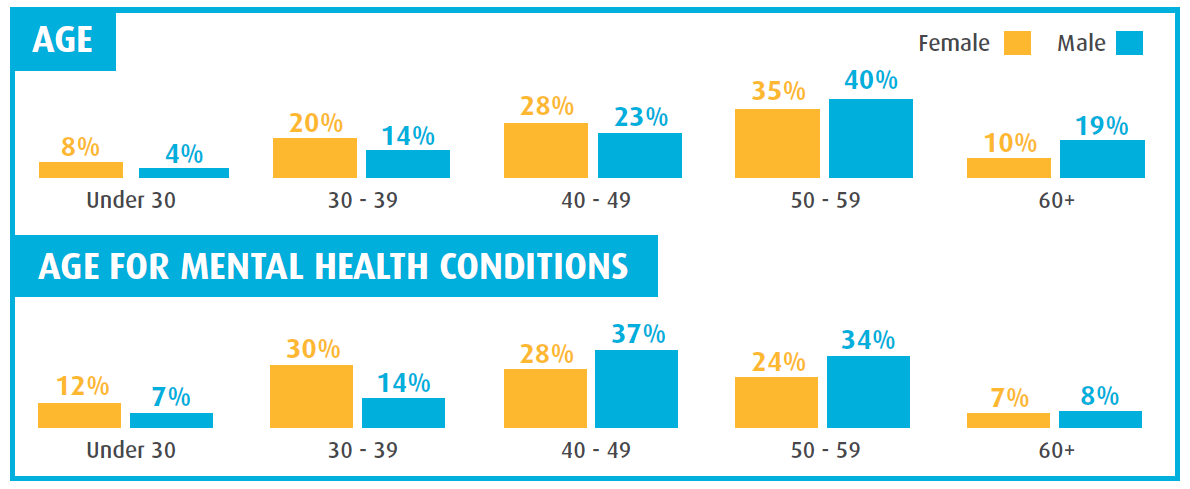 Commenting on the claims statement, Peter O'Donnell, CEO at Unum, said:
"There are record numbers of women in work and this Statement proves how valuable group income protection is throughout their careers. Almost a third of women claiming earn under £20,000 and more than 40 percent of women who made a mental health claim were under 40 years old. More of our claims still come from older workers though, especially men over 50.
"So we need to do more to protect our changing workforce. Less than 1 in 10 workers have GIP2 and women and older workers are even less likely to be protected. A temporary tax break for employers that invest in group income protection is the best way to close this unsustainable protection gap".
If you need any advice on Group Risk policies and how they can benefit and support employees you can contact advo's employee benefit team here.

Notes:
Data taken from Unum (2017) Unum proves Group Income Protection is shaking off 'exclusive' image
Department for Work and Pensions and Department of Health (2016) Improving Lives: the Work, Health and Disability Green Paper.
The conditions are categories used by Unum to group together different health problems classified by the widely recognised International Classification of Diseases (ICD) codes. The 'other' category covers over 100 different health problems for which Unum has had a small number of claims.
Some percentages may not total 100 percent due to rounding.
You can see the UNUM press release in full here.