Figures from the ABI again highlight the necessity of travel insurance as 3,000 holidaymakers every week need emergency medical treatment abroad helped by travel insurers. We look at the recent statistics and give advice. 
The eye-watering costs of needing emergency medical treatment abroad are exposed by the Association of British Insurers (ABI).
Analysis of 510,000 travel insurance claims reveals that last year:
Travel insurers helped 159,000 British travellers needing emergency medical treatment abroad – the equivalent of just over 3,000 a week.
The total medical bill, at £201 million, was the highest for six years, working out at £3.9 million every week.
Emergency medical treatment in the USA and arising from ocean cruises can be particularly costly. In one case, a 15-day stay in a US hospital on a ventilator recovering from a stroke cost £233,000. Treating a man who suffered a heart attack while on a cruise and arranging an air ambulance to get him safely back to the UK cost £202,000.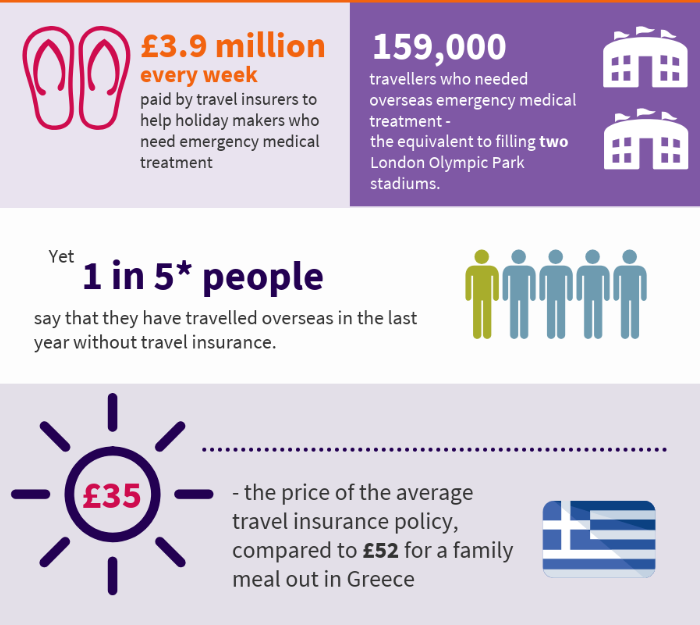 Other very high emergency medical treatment bills faced by British travellers that were paid for by their travel insurers included:
£187,000 to cover a 33-day stay in a Las Vegas hospital, several outpatient appointments and a flight back to the UK following a heart attack.
£185,000 to treat a traveller in the US with a blood clot.
£118,000 to pay for surgery and hospitalisation in East Africa following treatment for a blocked windpipe caused by food.
£95,000 to treat serious injuries caused by a road traffic accident in Central America. Because of limited medical facilities in the region, an air ambulance to Florida for treatment was needed. Then, due to the forecast of hurricanes, the traveller was returned by air ambulance to the UK before the hurricane hit.
£28,000 to cover the medical bill for a woman who spent six days in a Russian hospital to recover from a stroke suffered while on holiday in Moscow.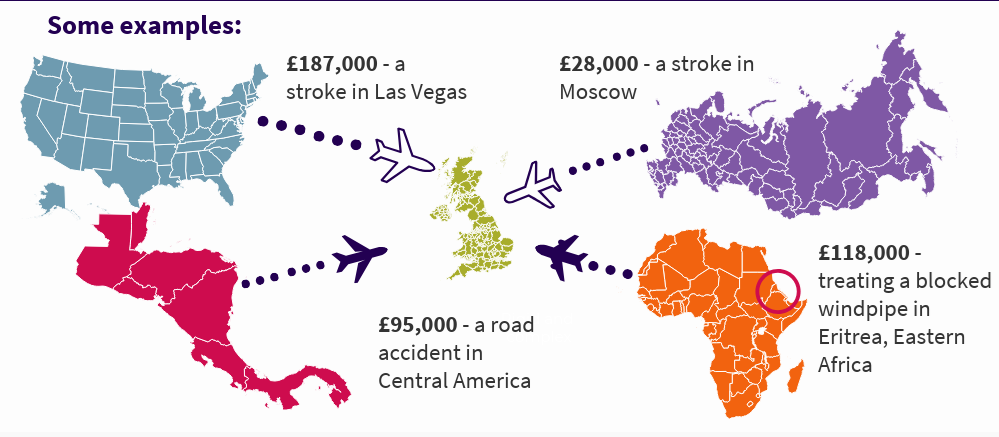 The cost of an air ambulance back to the UK alone can be very expensive. Typical costs1. back to the UK include £35,000 from the US, £12,000 from Majorca, and £25,000 from the Canary Islands.
Yet despite such jaw-dropping costs, an estimated one-in-five people2. admit to having travelled abroad without travel insurance, leaving them unprotected against potentially financially crippling medical bills.
Of the total 510,000 travel insurance claims dealt with last year, the 159,000 medical expenses accounted for 52% of claims costs, cancellations accounted for 38% and lost baggage or money  for 4%.
Charlie Campbell, Senior Policy Adviser, Protection, Health and Travel at the ABI, said "Most people bring back happy holiday memories, but for some it can be the stuff of nightmares. Falling seriously ill overseas is stressful enough, without the added fear of how to pay for sky high medical bills. Yet unbelievably, an estimated one in five people admit to having travelled overseas without travel insurance, especially when it can cost less than the average family meal while abroad. Should the worst happen, and you need emergency medical treatment, travel insurance can literally be a lifesaver."
Five tips to ensuring that falling ill abroad will not leave you with an expensive medical bill:
Get an EHIC. Make sure you have a valid European Health Insurance Card (EHIC) when travelling in Europe. It is free and gives you access to state-provided healthcare available to a resident. However, it is not a substitute for having travel insurance as it will not cover all medical costs, or the cost of emergency repatriation back to the UK.
Take the emergency contact details of your travel insurer when you travel. Take the emergency telephone numbers of your travel insurer should you need to contact them urgently. They, or their medical assistance provider, can advise and arrange for any emergency medical treatment that you may need.
Take care and stay safe. Try to avoid putting yourself at any unnecessary risk and always act responsibly. For example, avoid excess alcohol consumption. Generally, travel insurance will not cover accidents if you have not taken reasonable care.
Check if you are covered by your travel insurance for any activities you may do.  If you plan any potentially dangerous holiday activity, such as bungee jumping, before you travel check if you are covered. If you are going on an activity holiday, there are specialist travel insurance policies to cover various activity breaks.
Declare any pre-existing medical conditions before you travel. Tell your travel insurer about any pre-existing medical conditions when you take out your travel insurance. Specialist insurers or an insurance broker can often help in arranging cover.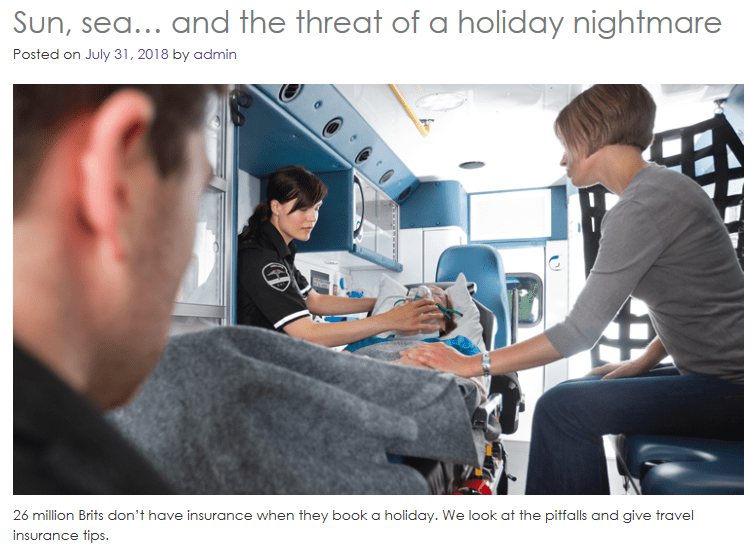 advo can help organisations select the right travel and health insurance package for staff travelling outside the UK or relocating overseas.

Notes:
 1.  Air Ambulance International; 2. ABTA, May 2018.