The abolition of Employee Tribunal fees has led to a spike in Tribunal claims by employees.
In what some people described as the biggest day for employment law, in July, the Supreme Court ruled that employment tribunal fees were unlawful.
Claims between July to September 2017 rose by 120% to 30,339 compared with 13,759 during the previous quarter, according to data from the Ministry of Justice.
During the year to September 2017, 10,035 claims were brought for unauthorised wage deductions, 10,192 for unfair dismissal, and 17,166 for equal pay.
Almost half of the equal pay cases (7,563) were brought between July and September 2017.
Vikki Wiberg, Senior Counsel at the law firm Taylor Wessing, said the numbers were hard evidence that backed up the experiences of employers in recent months.
Wiberg says "Almost immediately following the Supreme Court's abolition Employment Tribunal fees, we and many of our clients noticed a spike in claims. These statistics bear out the scale of this trend. Clearly, the introduction of Employment Tribunal fees had the intended effect of dissuading employees from making claims, and their abolition has widened access to justice again."
She adds that employers could face serious reputational consequences if they became relaxed about their employment practices while fees were in place, especially because all Tribunal decisions are now available online.
Andrew Gilchrist, Director and Head of the employment law department at Lupton Fawcett, believes that the figures make it clear that fees were deterring employees from going to court.
"It's clear that many people were discouraged from bringing claims due to the Employment Tribunal fees that were abolished earlier this year," he said. "The massive increase in multiple claims, which tend to be more volatile as they can be made up of a high number of claims against a single employer, indicates there is a large number of employees who are currently dissatisfied."
The July ruling found that the fees – which were set up to £1,200 – were "discriminatory" against women, after a review found that the number of employment tribunals has fallen by 70% following the fee introduction.
Employers are encouraged to 'get their house in order' as Tribunal claims increase rapidly.
Vikki Wiberg adds "One unanswered question is what the 'new normal' is. It will be interesting to see whether the next round of data in 2018 shows claims staying at this new level."
The reversal of Tribunal fees and projected implications has been covered previously by advo. You can see the most recent article here.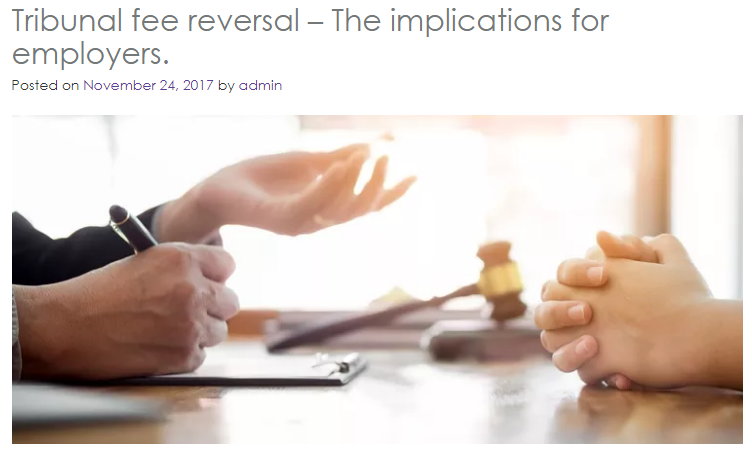 This article was first published in HR Grapevine and Reward magazine. You can see the HR Grapevine article in full here and the Reward article here.