New research suggests that employers lack a full understanding of group critical illness (CI) cover, with only a quarter being able to identify the correct definition of the policy.
Group Critical Illness is, relatively speaking, the newest and fastest growing of the group risk insurances (employer-sponsored life assurance, income protection and critical illness) but research* from industry body GRiD indicates that employers may lack a full understanding of the product. Only 27% identified the correct definition of Group Critical Illness (GCI) as 'a policy taken out by an employer to provide a tax-free lump sum to an employee on the diagnosis of one of a defined list of serious conditions or on undergoing one of a defined list of surgical procedures'.
Some employers wrongly believe GCI will pay an income (rather than a lump sum) to employees whilst they have a serious illness, or is simply to cover expenses as a result of the illness and others thought the policy paid out to the employer instead of the employee. In fact, a claim can be initiated once the employee has survived a critical illness included under the policy for a specific period of time (typically 14 days) and the employee has complete freedom about how they use the pay-out.
Advances in treatment
Advances in early diagnoses and treatment mean that increasing numbers of people are surviving critical illnesses** so it's even more important to support them following a diagnosis:
1 in 2 UK people in the UK will develop cancer during their lifetime and the number of people living with cancer is set to double from more than 2 million in 2010 to 4 million by 2030
Around 7 million people are currently living with heart and circulatory disease in the UK and an estimated 915,000 people alive in the UK today have survived a heart attack
There are over 2 million stroke survivors in the UK and almost two thirds of those will have left hospital with a disability
However, The Money Advice Service*** has found that 12.4 million UK adults would have to borrow or could not pay when faced with an unexpected £300 bill, and 64% of adults do not have savings equivalent to three months' income or more. The stress caused by this pressure on finances is the last thing someone needs when dealing with a critical illness. The financial pay-out from critical illness cover can ease that financial burden.
Average claim: £71,463
Where financial protection was in place for employees, GRiD's most recently published figures show that the average claim on GCI insurance was £71,463****. This money can support an employee in many ways, such as to adapt their home if required, to pay for treatment, for everyday living expenses, to supplement sick pay, to take family on a much-needed holiday, or to give time away from work to re-evaluate their life.
The advantages for an employer is that GCI can also give an employee the support they need to return to work and it can engender loyalty and increase engagement, not just with the employee receiving the benefit but fellow colleagues too. It reflects positively when others see how well a business looks after someone when they're ill.
Extra support
According to GRiD's research, the most popular reason for offering GCI is to 'look after staff and their families'. A financial pay-out is an obvious benefit but GCI can also support in other ways with the extra services that are often included, and these can also offer much needed emotional and practical support.  Such support can include access to an Employee Assistance Programme, a second medical opinion service, personalised cancer support, nurse-led support, a treatment-sourcing service and more.
Katharine Moxham, spokesperson for GRiD said: "Being diagnosed with a critical illness is extremely traumatic, and a pay-out can buy both valuable time and freedom for the individual employee and their family whilst they come to terms with their new normal. Where no protection is in place, employees could face the additional burden of financial stress which is hugely unsettling in itself, but it may also be unhelpful in recovering from a medical condition or getting over surgery."
The research also shows that employers don't currently think it's as important to their employees as the other group risk benefits, with 38% seeing group income protection as the most important of the three, 29% seeing life assurance as the most important and 20% seeing critical illness as the most important.
Katharine Moxham points out: "Each group risk benefit offers something quite different in its own right. Group Life offers peace of mind to employees that their household will be supported financially in the event of their death, Group Income Protection provides continued pay for employees who are unable to work for any length of time due to illness, injury or disability and Group Critical Illness supports people with a lump sum payment at a time when they have received the news of a devastating diagnosis. All offer quite distinct benefits, but also work well together."
Read HI Daily's Editor David Sawers' excellent editorial as a follow up to this article here.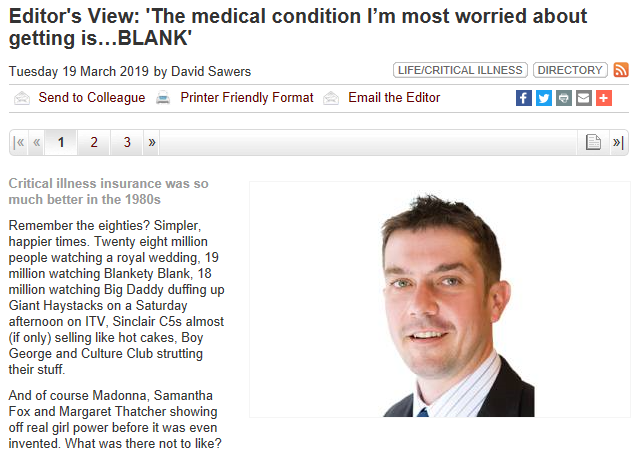 Notes:
* The research was undertaken by Opinium on behalf of Group Risk Development (GRiD), amongst 500 HR decision makers in 500 UK businesses, including 100 in companies with more than 250 employees, during November 2017.
** 1 in 2 will get cancer: Further details here.
The number of people living with cancer is set to double from more than 2 million in 2010 to 4 million by 2030: Further details here.
Around 7 million people are currently living with heart and circulatory / An estimated 915,000 people alive in the UK today have survived a heart attack. Further details here.
1.2 million stroke survivors / two thirds leave hospital with disability. Mre details here.
*** Money Advice Service, March to May 2018
**** GRiD Claims Survey 2018. You can view the Grid Claims survey here.