Positive progress masks ongoing challenges for women in reaching the top of UK businesses confirms the CIPD as latest employment figures show a drop in the number of women employed.
The latest UK Labour Force Survey (LFS) estimates for Quarter 3 (July to Sept) 2019 shows an overall decline in employment by 58,000 to 32.75 million, the second rolling quarterly decrease.
The fall in employment in Quarter 3 was driven by the fall in the number of women in employment, down by 93,000 to 15.46 million. Over the same period, the number of employed men increased by 35,000 to 17.3 million.
The good news is that from 2012 onwards, the number of women joining the workforce overall increased at a faster rate than that of men. In the year to September 2019, the number of employed women increased by 226,000 while that of men increased by 97,000. However the employment rate for women in Quarter 3 2019 was 71.8%, still 8.5% lower than that of men (80.3%).
Helen Morrissey, pension specialist at Royal London, commenting on the figures said that "Fall in women in employment must not be allowed to continue" adding "we need to do all we can to promote strong female participation in the workforce. We can only hope this is a small blip in the overall upward trend"
There has however been progress on improved numbers of women in leadership roles in the FTSE 100 companies, which is "encouraging" comments Jill Miller, diversity and inclusion adviser for the CIPD, who goes on to say "However, there's still a long way to go until we can say there is equality of opportunity for women in Britain's boardrooms."
"Representation of women in executive roles, rather than non-executive roles is still far too low and needs to be addressed as a priority. The ongoing failure to address this highlights that too few businesses are thinking about talent planning and how they can make senior roles more accessible and attractive to women. However, the extension of the director target to also include their direct reports is a positive step towards addressing this as it will encourage businesses to think seriously about building sustainable talent pipelines rather than making ad-hoc token gestures.
"Gender equality is everyone's business at work, from senior leaders' role-modelling inclusive behaviours through to line managers, people professionals and investors who can really challenge businesses on their actions."
advo's Head of Sales and Development commenting on the latest ONS statistics said "organisations must seek to create a culture where anyone, regardless of gender, can achieve success. Any employer that either unconsciously or consciously puts barriers in the way of women progressing to senior positions is missing out on an incredible amount of talent putting them at a disadvantage against competitors.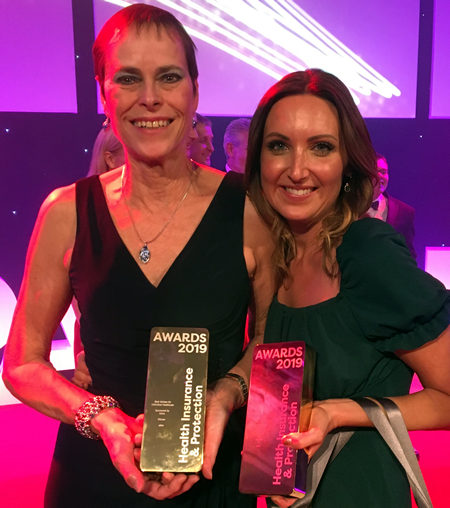 Sue Smith, Head of Private Clients at advo with Lucy Pearce Head of Sales and Retention. picking up awards at the recent HI Awards recognising their contribution to the Health and Protection industry.
You can view the ONS' Labour Market economic commentary for November here.
You can view the CIPD's press release in full here.