Six in 10 business leaders with mental health symptoms have turned to potentially unhealthy coping mechanisms rather than seeking help with two in five using alcohol and substances to cope with mental ill-health. Business leaders needs to overcome the stigma to protect themselves and their businesses.
The research conducted by Bupa Global  reveals that six in 10 (64%) board level executives who have experienced symptoms of mental ill-health during the pandemic have turned to potentially unhealthy coping mechanisms to deal with these issues.
Worryingly, for 38% this means using alcohol or recreational or over the counter drugs, with others using cigarettes or vaping, excessive exercise, over or under eating, or gambling.*
The mental health toll on UK business leaders has been high. Eight in 10 (78%) have experienced symptoms such as fatigue, lack of motivation, mood swings and disturbed sleep,2 with triggers including concerns about their business, economic recession, protecting the health of loved ones, coping with reduced personal freedoms and personal financial instability.3
But despite widespread awareness of the mental health impact of the pandemic, stigmas are still preventing many from seeking the help they need. Two in five board level executives (42%) believe that it would damage their reputation if it became known if they were struggling, and a similar number are concerned about the impact on their professional or social reputation if they ask for help.4
Many of the healthy coping strategies such as seeing family and friends has left many to cope alone. Only one in four of those affected (27%) have spoken to a medical professional, while one in three (36%) admit that they self-medicate as they can't talk to anyone about their mental health.
The Royal College of Psychiatrists has warned that the number of people in the UK at risk of alcohol addiction has jumped to 8.5 million during the pandemic5 and Bupa Global's research suggests business leaders could be at risk too. And with early diagnosis crucial to improving outcomes, Bupa Global experts are urging those affected to come forward and seek help.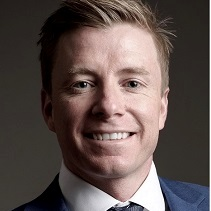 Dr Luke James, Bupa Global Medical Director
Dr Luke James, Bupa Global's Medical Director commented: "The pandemic is taking its toll on business leaders. With complex networks of colleagues, investors, affiliates as well as their own families to consider, it's no surprise that many have felt that they must 'keep calm and carry on', rather than facing up to mental health issues head on.
"At the same time, many of the mechanisms people typically use to cope with such stress and anxieties such as seeing friends and family, going to the gym, on holiday and even going to work have been diminished, and replaced for other, more addictive substitutes such as increased alcohol consumption, self-medication, substance abuse, and gambling.
"But while self-medication can seem like a quick-fix solution that may help with anxiety or depression in the short term, it won't solve the underlying mental health issues and could ultimately make things worse. When it comes to mental ill-health, early diagnosis and treatment improves outcomes, and as we face even greater challenges to our mental health over winter, I'd urge anyone who might be struggling to come forward."
Poppy Jaman, CEO of the City Mental Health Alliance said: "Leading by example is crucial to breaking the down stigma attached to mental illness. Encouraging compassionate dialogue which leads to positive action is crucial to creating psychologically safe workplace cultures where everyone can flourish. Workplaces that nurture talent, train line managers, put mental health and wellbeing on the Board agenda are building resilient businesses which in turn will be able to face these challenging times."
Spotting the signs of self-medication:
Dr Luke James says: "It can be difficult to spot the signs that someone is self-medicating their mental health with drugs or alcohol, but I'd recommend seeking medical help either through your GP or health insurer if you notice that you or a loved one is starting to show signs."
Signs could include:
Increased reliance on drugs or alcohol to help deal with stressors such as giving work presentations, or making big business or financial decisions
A heightened sense of anticipation – for example if you can't stop thinking about the drink you're expecting to have later that day, or if you can't go a day without drinking or taking a particular substance
In the case of alcohol you might notice a restricting pattern – for example people who develop dependency tend to stick to certain drinks
Increased tolerance – you might notice that it takes a higher dose or more drinks to reach the desired effect
Worsening mental health symptoms; alcohol is a depressant which means it can make anxiety or depression worse. Some drugs can also cause mood disturbances or even psychosis
An impact on appearance or personal habits, for example losing or gaining a lot of weight, losing interest in appearance or personal hygiene, or withdrawing from friends and family. Other people may notice or comment on this too.
You can read more about Bupa Global's research that formed part of their Executive Wellbeing Index here.
Notes:
'Self-medication' refers to the practice of self-administering a substance or any external influence to help alleviate a physical or mental health condition, often without medical advice or prescription.
Of those UK board-level executives who have experienced symptoms of mental ill-health, 38% of board level executives have self-medicated their mental health with drugs (recreational or OTC) or alcohol during the pandemic

33% of UK business leaders have experienced fatigue, 26% lack of motivation, 26% mood swings and 25% disturbed sleep

Top worries for UK board level executives include economic recession (43%), financial instability (22%), protecting the health of loved ones (31%), coping with reduced personal freedoms (28%), business challenges (25%)

39% say they wouldn't be able to seek help for fear of it impacting their social standing or professional reputation
Bupa Global's research was conducted via CATI by Opinium research between 30 June – 29 July 2020 among 450 UK, USA, France, UAE and Egypt-based HNWIs defined as those with over £1M in salary and investable assets. Of the 450, 322 are board level executives. Including 100 UK HNWIs, of which 72 are board level executives (also referred to as business leaders in this press release).
You can read the Bupa press release in full here.