Survey confirms that nearly 20 million UK adults(1) are not getting the right amount of sleep.
UK adults continue to be ranked the worst reported sleepers in an international survey carried out by Aviva health insurance. The survey, which compares findings across 14 countries(2) reveals that more than a third (38%) of UK adults believe they are not getting the right amount of sleep.
A previous wave of this study carried out in 2016 found UK adults to be the worst reported sleepers with 37% saying they weren't getting the right amount of sleep.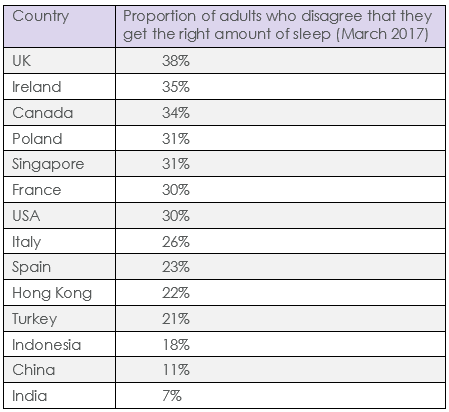 Factors which might affect sleep: UK findings
Gender: Among the self-proclaimed poor sleepers, UK men are worse than women, with 41% feeling they do not get the right amount of sleep compared to 35% of UK women.
Age: When it comes to age, adults aged 35-44 profess to be the poorest sleepers, with more than half (51%) saying they don't get the right amount of sleep. In contrast, those aged 65 and over seem to be the best sleepers, with only 27% feeling they don't get the right amount of sleep.
Relationships: In addition, one in three (36%) adults who are married say they don't get the right amount of sleep, compared to nearly half (45%) of couples who co-habit.
Children: Overall UK adults with children appear to sleep more or less as well as those without children, with 38% and 37% respectively saying they don't get the right amount of sleep.
However, the age of children seems to have an impact and surprisingly those with older children say they sleep less well than those with very young ones: 47% of adults with children aged 10 to 15 say they don't get the right amount of sleep, compared to 43% of those who have children aged 0 to 4 and 41% of adults with children aged 5 to 9.
Education: The study also found that within the UK, levels of sleep vary depending on the individual's level of education. Nearly half (48%) of UK adults with a Master's degree or PhD felt they did not get the right amount of sleep, compared to 37% who finished their education at secondary school. However those who have attained a Bachelor's degree are most likely to sleep well, with only 35% feeling they don't get the right amount.
Dr Doug Wright, Medical Director for Aviva UK Health said: "Our research continues to highlight that millions UK adults still feel that they are not getting the right amount of sleep."Our research suggests that some groups of adults may be more susceptible than others to sleep problems, but there are no set rules and we can all suffer from disrupted nights from time to time. But what is important, is to identify any issues early on and to take action to alleviate them. Using an app or a digital device to monitor sleep can help to track rest patterns and pin-point any factors which may be causing sleep difficulties.
"And if stress, anxiety or other mental health issues are having an impact on sleep patterns, or if problems continue for a prolonged period, it may be an idea to seek advice from a GP. A better night's sleep can help to improve overall health and wellbeing, so it pays to tackle sleep problems as soon as possible and nip them in the bud."
Quick tips for better sleep:
Eat a balanced diet and exercise: Eat a balanced diet and take regular exercise. But be sure to give yourself time to wind down – don't exercise just before bed-time.
Put gadgets to sleep too: Checking emails, phone messages and social media or watching TV can put you in 'alert' mode, making it more difficult to get to sleep. Give yourself a break from gadgets before bed-time, and put your phone out of the bedroom or enable the do-not-disturb function at night.
Block out the light: Don't expose yourself to bright lights before going to bed; it tricks your body into believing it's time to be awake.
Set a schedule: The body adapts quickly to routine. Going to bed and rising at the same time helps to establish a stable sleep pattern.
Avoid heavy meals before bed: Don't eat a heavy meal before retiring; however don't go to bed feeling hungry. Instead, eat a light snack.
Write down your worries: If you find yourself waking up at night thinking about things you have to do, keep a pad and pen close by to note them down so you can return to sleep untroubled.
Everything in moderation: Balance work and play. Stress and overwork can lead to poor sleeping habits so make sure you find ways to unwind.
Establish a sleep routine: Have a bedtime ritual. For instance, lie face up in bed with arms and legs slightly spread. Close your eyes. Imagine a black hole and sink into it. Or count sheep!
For more advice on keeping healthy and additional articles on how to sleep better, visit Aviva's Home of Health page here.
You can view the Aviva press release in full here.
Research overview
(1) Based on ONS figures: Latest mid-year population estimates show 51,767,543 adults aged 18 and above in the UK: 38% equates to approximately 19,671,666 (mid-point of 19,052,008 to 20,291,323 based on a margin of error of -/+3.15%) adults who disagree that they are getting the right amount of sleep..
(2) The Aviva Consumer Attitudes Survey interviews c.1,000 adults aged 18 using online panels in each country surveyed except China (1,500 interviews), and India (1029) where the survey is conducted face-to-face and online (14,545 interviews in total). Countries surveyed include:  UK, Ireland, France, Poland, Spain, Italy, Turkey, Singapore, Hong Kong, China, Indonesia, India, Canada, and USA. A quota sample was interviewed with quotas set by age, gender, region and income by country. The questions referenced in the document were only asked of those who had driven in the last two years. Data is weighted to the known profile of the population in each country. The research was conducted by Ipsos MORI between 17th March and 1st May 2017. The results from this wave were compared with an earlier wave of 13,562 interviews across 13 countries (excluding Hong Kong), carried out using the same methodology between and 15th March –22nd April 2016.
(March 2017 UK reported subsample bases are as follows: Male: 486, Female: 515 Aged 35-44: 204, Married: 297, Co-Habiting; 142, Parents; 526, Parents of children aged 0-4: 116, Parents with children aged 5-9: 112, Parents with children aged 10-15: 110, Parents with children aged 16-17: 40*, Educated to secondary school, level: 388: Educated to degree level: 254, Educated to higher degree level: 80)