Keeping staff in the dark about pay feeds perception of unfairness, new research from the CIPD finds. Only half of employees think they are paid fairly and even fewer think that everyone in their organisation is paid fairly.
Only half of permanent employees (51%) think they are paid fairly and even fewer (34%) think that everyone in their organisation is paid fairly, a new report from the CIPD, the professional body for HR and people development, reveals.
The report  finds the perception of unfair pay is being driven by employers' lack of communication around pay. The CIPD are therefore calling on employers to be more transparent about both their pay processes and outcomes.
When people don't think they're paid fairly, organisations reduce their chances of attracting and retaining the best talent. Employers also miss the opportunity to improve employee performance and well-being.
Charles Cotton, senior reward and performance adviser at the CIPD, said: "Failure to be transparent about pay can make staff feel that they are being kept in the dark and feed a perception of unfairness." adding  "There's a real opportunity for organisations to do a lot more around communicating their pay policies to staff, and encouraging line managers to talk to their teams about it, so staff understand how and why such decisions are made.
"But communication is only part of the story and won't ensure people are paid fairly in the first place. Continued scrutiny over executive pay and gender pay gap reporting shows this is still an issue which many organisations are wrestling with, so businesses need to be on the front foot when it comes to understanding and assessing pay."
The CIPD wants to see all organisations have a clear definition of fairness which covers both pay processes and outcomes. This should be developed with input from staff on what fair pay means to them.
The survey findings also raise the question around wider benefits and their communication to staff. Without such communication the focus on employees can be solely on their salary and not what the total renumeration package is provided.
Colin Boxall, advo's Commercial Director commented "A lack of transparency on pay and leaving staff in the dark about wider benefits is likely to cause resentment, believing other employers do more. It makes little financial sense for employers to invest in their staff and provide additional benefits but not communicate this, but many do not. Recent research from GRiD confirms that only a quarter of UK employers make a point of regularly communicating on their benefits package.  Tools such as Total Reward Statements are readily available to employers, as are online benefit portals, and these can greatly assist in helping staff understand and appreciate their employer's benefit spend."
The CIPD's Reward Management 2019 report, which surveyed 2,031 employees and 465 HR professionals, also found:
One in five workers (20%) think the pay of their CEO is 'about right'.
Three in five people (60%) report that their line manager has never explained to them why they get paid what they do.
Less than a fifth (18%) of employers have a formal process to assess and manage pay risk.
Only 39% of employers have carried out an equal pay audit in the past three years to ensure they are complying with the law.
Only a third (30%) of employers have a definition of what fair pay means within their organisation.
These findings show that too few organisations have appropriate checks and balances in place to ensure that pay is fair. It could result in unfair and inconsistent pay decisions slipping through the net more easily and organisations may be slower to spot them.
You can download the full CIPD report here.
If you would like to know more about how advo can assist in communicating your employee benefits to staff then email Jamie Tuffield on jtuffield@advogroup.co.uk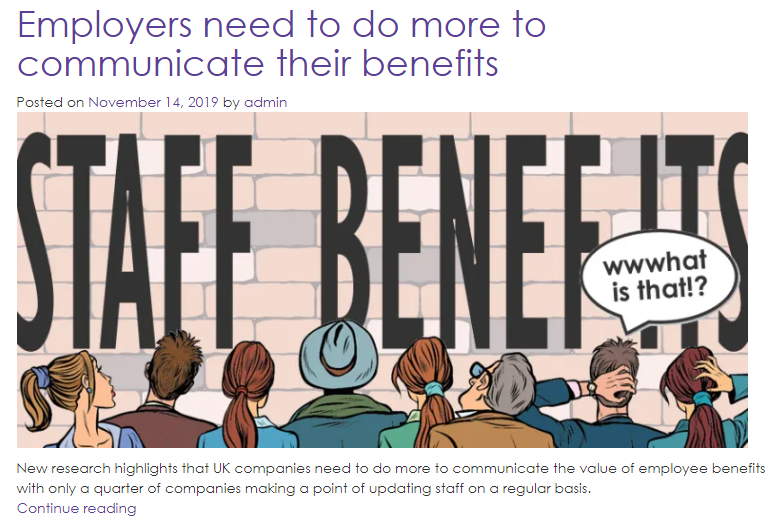 You can read the CIPD press release in full here.