Kevin Crew, advo's IT Director, has been included in the Data 50 listing alongside some of the UK's largest and best known organisations.
The Data 50 Awards is the UK's premier initiative for celebrating data leadership and excellence among the sector's highest achievers.
The Data 50 listing is updated annually to recognise the top individuals and companies driving data innovation and business value in the enterprise, with ten 'best in class' winners revealed at an awards ceremony on 18th May in London.
In addition to the main listing Kevin is also shortlisted for special recognition in a 'best in class' award in the category of Financial Services and Insurance.
Other organisations included in the 2017 Data 50 list include Network rail, Ocado, Royal Mail, The British Army, Boeing, Vodafone, Guardian and Yorkshire Building Society.
You can see the full data 50 listing here.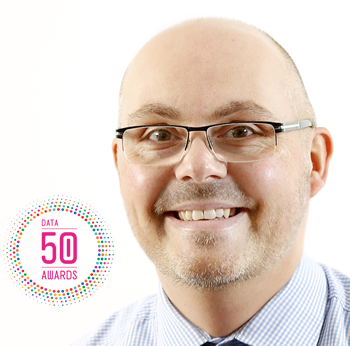 Data 50 outlined the reasons why Kevin and advo were included in their top 50.
"Employee benefit specialist advo created in-house systems allowing slicker account administration and lower client fees. Kevin Crew is both architect and administrator of advo online. Designed for companies up to 500 employees, advo online was created for SMEs and small corporates, and has matured into a complete employee management and communication platform, allowing a shift from policy administration to a generator of sales. In 2015 advo went live with a full flex-benefits platform, giving SMEs access to a unique benefit engagement technology previously the preserve of larger corporates. In April 2015, advo extended staff portals to incorporate full flexible-benefits. The current system is in its third generation with a fourth currently in construction that encompasses payroll and HR. Towards the end of 2015, advo moved away from product sales based around renewal dates to targeted technology appointments."
In reacting to the news that he has been included in the Data 50 listing Kevin Crew commented "I was both surprised and delighted to be recognised for the work we have been undertaking. advo launched its first technology platform over 10 years ago and I believe is one of the leaders in our industry in the management and use of data. our advo online  is quick and easy to use, saves time, looks good and makes the client experience better."
advo has offered technology platforms since 2006 allowing effective multi-benefit management and easy access to staff benefits.
advo's website: www.advogroup.co.uk
View advo's brochure here.