advo held their annual 'Oscars' last Friday where staff were recognised for achievements during 2017.
The awards include those members of staff that had gone above and beyond what would be considered advo's usual high standards and some less serious achievements including awards such as 'best comedy moment' and 'happiest employee'.
The two main awards were 'advonian of the year' and 'star of the year', the first voted by managers for the member of staff they believe has contributed most to the group in 2017 and a similar award voted purely by advo staff.
In hotly contested categories, and following on from last year's tradition, both advonian and star of the year were won by the same person, Ellie Sultana who was awarded a large cash prize by Operations Manager, Lucy Irvine.
You can read about Ellie's journey at advo in the autumn edition of advocate magazine.
A special mention should also be made for Maddy carter who was voted by her peers for both the 'Most Inspirational Award' and the 'Getting Involved Award' for her attitude and approach for both inside and out of work.
The Outstanding team award went to employee benefits' Account Support.
Best Newcomer was Ashley Lazenby.
The 'Best Comedy Moment' was won by  Colin Boxall  and Jenny Durling for Colin's 'opting out' of a conversation with jenny on a return flight of the advo company convention to Budapest. Comments from advo staff confirm that this award was 'richly deserved'.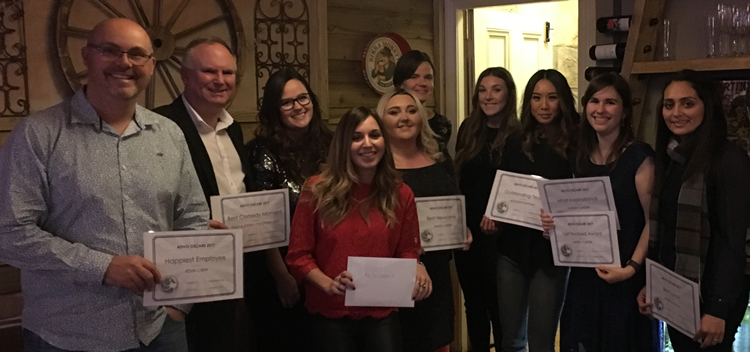 Winners (from left). Kevin Crew., Colin Boxall, Jenny Durling, Ellie Sultana, Ashley Lazenby, Victoria Hackshaw, Chloe Luff, Annabelle Vuong, Maddie Carter and Jag Dosanjh.