ADVO Oscars – who is best of the best?
The winners of the ADVO Oscars have been announced. After the traditional ADVO Christmas dinner staff gathered to hear the winners.
The ADVO Oscars are an important annual event where the 'best of the best' are confirmed and staff achievements that go above and beyond what would be expected are highlighted.  Alongside are a number of light hearted awards for non-business triumphs, such as the best comedy moment of the year.
There are two main awards 'Advonian of the Year' where staff vote for who they believe is the best of them and 'Star of the Year' awarded by management, both of which attract a large cash reward.
Jamie Tuffield had the staff and management vote winning both Advonian of the Year and Star of the Year.
Comments from staff when registering their vote for Jamie said "I find him a very helpful, fun, nice guy to work with, very approachable and hardworking." Also "very dedicated & focussed." Another employee said he is "always willing to go above and beyond for them [clients]." And another "he's glued to the phone all day every day and still finds time to help others".
In addition Jamie got the Oscar vote for the 'Human Handbook' award, the staff member that has the most encyclopaedic knowledge of insurer small print.
There were also special awards this year for Nadiya Gregory and Jacqui Schanz. The Directors felt that Nadiya is deserving of recognition as she has been a great support to management this year unofficially taking a more senior role. Jacqui, who is a senior telesales executive had demonstrated great resilience, professionalism and enthusiasm in a very tough role.
A further award of note was for Lucy Pearce who is Head of Client Services who the staff voted the 'most inspirational'.
Colin Boxall, ADVO's Commercial Director commented. "ADVO has always understood that the personal touch remains essential and so invest heavily in staff, we demand a lot from them and are expected to always be at the top of their game, but also to enjoy their time at work. We have a fantastic team of people who do us proud".
All the winners are shown below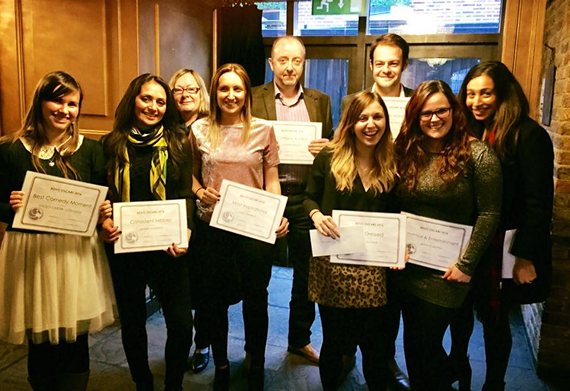 Back row: Jacqui Schanz, Clinton Bennett, Jamie Tuffield. Front row from left: Maddy Carter, Jag Dosanjh, Lucy Pearce, Ellie Sultana, who won best newcomer, Jenny Durling, Nadiya Gregory.