advo continues its partnership with Doctorcall to deliver onsite workplace flu vaccination programmes.
Doctorcall, the Harley Street medical specialist, is the largest provider of on-site flu vaccinations in the UK and has vaccinated more people against influenza than any provider outside the NHS. advo has decided to continue the relationship as a result of the ongoing positive feedback from clients.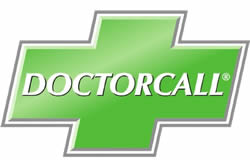 Doctorcall will deliver vaccines through onsite nurse clinics and flu vouchers that can be redeemed at 3000 pharmacies nationwide.
Seasonal influenza vaccination is quick, simple and effective and are proven to reduce absence, so they more than pay for themselves in an average year and are a popular staff benefit that also provides duty of care.

This Year: Quadrivalent Influenza Vaccination
For the 2019/20 flu season, advo, through Doctorcall will be offering the quadrivalent flu vaccine. This superior vaccine means that each patient will be protected against more strains of flu than ever before. It has now become official policy to use quadrivalent flu vaccine in the UK.
There are two important influenza A strains and two important influenza B strains. Trivalent vaccines provided cover against viruses from both A strains and one B strain. A quadrivalent vaccine which covered the second B strain became available several years ago but was not considered cost effective.  However, over the past few years, the additional cost of quadrivalent vaccine has come down and other countries adopted it.
When, in the 2018-19 season, a flu epidemic arose from the B strain that was not included in the trivalent vaccine, a decision was taken in the UK to change to quadrivalent vaccine.  Quadrivalent vaccine is now the internationally accepted vaccine of choice.
Doctorcall has been able to source quadrivalent vaccine at a cost-effective price and we do not believe it is any longer appropriate to offer trivalent vaccine.
Onsite Flu clinics
Held Rates: For vaccine for orders of 99 and under the cost will be £7.95 each. Orders over 100 attract a discounted rate of £7.50 per vaccine.
There is a separate charge for the nurse which varies depending on the number of vaccines with a minimum charge of £270 for their time. This includes all clinical and travel costs. An indication of nurse costs are outlined below.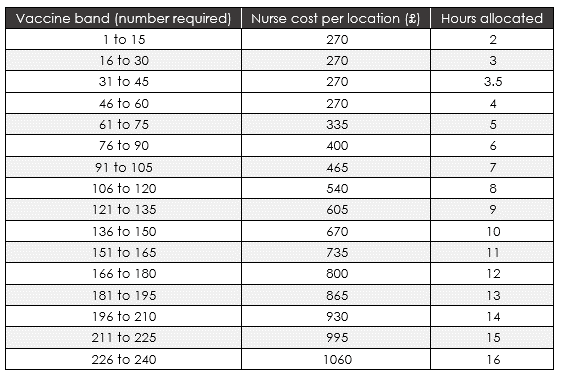 Please note that Vaccines attract VAT but no VAT applies to nurse costs.
The onsite clinic process will be:
Contact your advo account manager to confirm the number of vaccines and locations. Dates will then be confirmed with Doctorcall.
The number of Vaccines ordered and equipment needed by the nurse is couriered the day before in a coolbox.
The next day the nurse arrives, sets up the clinic and does the jabs. The coolbox is then repacked
The coolbox is picked up by courier the next working day
If you have staff who are unable to attend on the day of the clinic they can be given a Flu Voucher which they can redeem at a time that suits at a local pharmacy. .
Flu vouchers
An easier option is to give your staff a Flu Voucher.
Staff just present the voucher at their local pharmacy to receive their flu vaccination, no payment by staff is necessary.
Vouchers can be purchased in bulk for employees and are a simpler and more cost effective method of supplying your employees with a flu vaccination. In particular, field based staff or home based workers and transport companies may find a voucher an easier solution in obtaining a flu vaccination.
Flu vaccination vouchers can be redeemed at over 3,000 retailers and pharmacies nationwide. Click here to visit the pharmacy location site. You can check your local pharmacy by simply adding your postcode.
The cost of a Flu Voucher is £7.95 each. No VAT applies to vouchers.
Advantages of flu vouchers
There is nothing more to pay. Staff just present their voucher at the pharmacy to receive their flu vaccination.
Vouchers are the simplest and most cost-efficient way of offering vaccination to staff who are unable to attend on-site vaccination days.
Redeemable at high street pharmacies.
Vouchers dispatched by 1st class post or Next day special delivery.
Vaccine given by a fully qualified nurse or pharmacist.
Redeeming your flu voucher
You can redeem your flu vaccination voucher at most of the following retailers:
You can redeem your flu vaccination voucher at most of the following retailers:
Tesco pharmacies, ASDA pharmacies, Superdrug, Well (Formerly Co-op pharmacy), Lloyds pharmacies (including those located in Sainsbury's supermarkets), Morrisons Pharmacies, Rowlands pharmacies, Cohens pharmacies, Manichem pharmacies, McParland pharmacies, Norchem pharmacies, Knights pharmacies, Kamsons pharmacies, Imperial pharmacy, Dears Pharmacies.
Some retailers may require you to make an appointment in advance. Subject to availability. The voucher must be presented and given to the retailer on the day of vaccination. Vouchers must be redeemed by March 31st 2020 but this may vary depending on the retailer.
Who should not consider having the flu vaccination?
There are various circumstances under which the health care professional administering your vaccination may advise you not to have it or to delay it and you will be advised at the time.
Contra-Indications and Exclusions of Flu vaccines.
You should not have the vaccination if:
You are under 16 years old
You are in the first trimester of pregnancy
You have a temperature or an infection
You are allergic to eggs or chicken
You have had a reaction to a previous flu vaccination.
You are known to be allergic to one of the following:Formaldehyde, cetyltrimethylammonium bromide, polysorbate 80, kanamycin, neomycin, polymixin, gentamicin, sodium deoxycholate, betapropiolactone, nonoxynol 9, thiomersal, oxtoxinol 9. If you have not heard of these, you can assume you are not allergic to them. Other allergies do not apply.
General Information & Advice
After vaccination it takes two weeks to be protected against flu. You cannot catch flu from a vaccination.
Flu vaccination provides over 85% protection against seasonal influenza.
Occasionally people experience side-effects after a flu vaccination. Most are not serious and will disappear on their own in a day or two.
Common side-effects can include tiredness, aching or a mild temperature for around 24 hours. In addition local reactions can occur including redness and swelling.
Rare side-effects reported include neuritis, thrombocytopaenia, vasculitis, seizures and allergic reactions which may be serious.
Immunological blood tests for HIV and hepatitis should not be taken for two weeks following vaccination because the results may be unreliable.
For medical advice following your vaccination, call 0844 257 0644.
For more information email advo on info@advogroup.co.uk