ADVO has a reputation for placing its employees at the heart of the company. The high levels of expertise and customer service provided by its staff have been frequently recognised at some of the industry's most respected award ceremonies. Additionally, ADVO's commitment to developing its employees has also been recognised through their 'Investors In People' Silver Accreditation. A further example of ADVO's employee-centric approach is its 'Best of the Best' Awards presentation. The event highlights key achievements of its staff and celebrates efforts of those who have truly gone above and beyond expectations. The annual presentation also culminates in naming ADVO's 'Employee of the Year'. With such a strong performance from all staff throughout 2015, naming the employee of the year was not an easy task.
Commercial Director, Colin Boxall commented
"Deciding on the employee of the year is always a hard task but it has been particularly difficult this year with us deciding to also highlight two 'highly commended' individuals. Our focus has always been people and technology but we realise that ultimately our success rests firmly with our employees. I truly believe that if we took any of our employees there would be a compelling reasons as to why they should be considered".
The 'Employee of the Year' title is decided by ADVO's Directors, taking into consideration submissions from both managers and individual staff members. Not only does the winner receive the richly deserved recognition from their colleagues, but also a cash prize. This year's winner was ADVO's Senior Administrator, Nicola Rice, who edged just ahead of Account Managers Nadiya Gregory and Jamie Tuffield, who were in turn named by the company as 'Highly Commended'.
ADVO's Operations Director, Gill Mateo commented on selecting Nicola as the employee of the year
"Nicola was a very popular choice with all recognising her contribution that has impacted so positively with everyone whom she works alongside".
The yearly 'Best of the Best' presentation also reflects ADVO's relaxed and cohesive company culture. Gill Mateo commented
"The awards reflect the ADVO culture of professionalism but with a smile".
CEO, Larry Bulmer also commented
"We try and instil a high degree of professionalism and knowledge but strive to retain a family firm atmosphere. We demand a lot from our people but also expect them to enjoy working here."
We caught up with Nicola Rice and asked her some key questions on being named as ADVO's 'Employee of the Year' for 2015.
How did it feel being awarded 'Employee of the Year' by ADVO?
It feels wonderful that all the hard work that I've put into the company this year has been recognised, not only by my peers, but also by ADVO's directors.
Were you surprised to be awarded this title or was it something you were really striving to achieve?
It was really unexpected so I was over the moon when it was announced. Now that I've had time to let it sink in, I'm really honoured as I know how much effort and commitment the whole team have put in over the year.
Why do you think ADVO decided to present you with the award this year?
ADVO are a very personable company where the directors and managers get to know employees really well. Because of this, I think they they're able to recognise and appreciate the efforts individuals go to in order to reach deadlines and provide the best possible service for our clients. I feel that I've really dedicated myself to, and grown in to the role this year. There have been a number of changes within my team and at ADVO in general. This has led to challenges but I believe it's these that have really helped me improve. I think the daily cups of tea I make for the CEO could have potentially helped to secure his vote too!
What are some of the key projects or events you're looking forward to this year?
I always look forward the annual ADVO conferences and can't wait to find out where this year's one will be. Last year all the staff were taken to Athens for a long weekend. It's great that we have the opportunity to come away from the office for a couple of days and spend time on a more social level as a team and explore a different culture. Everyone always comes back to work with a real boost and raring to go again!
I'm also hoping for another ADVO sports day this year! I'm in training already so I can steal the trophy back from the boys!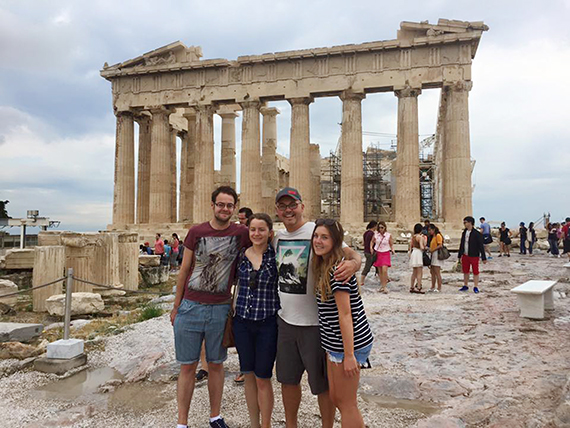 Above: Ancient Athens, Greece
What do you think are some of the elements that make ADVO unique, with regard to customer service and the company's approach as a whole?
I really enjoy working for ADVO and I think one our approach to business is one of the driving factors for this. The Account Mangers and Administrators get to know their clients in the same way that the Directors and Managers get to know our staff. This makes a real difference with regard to the dynamics between clients and ourselves.
The focus is always on what is best for each of our clients as an individual business, rather than what's best for the majority. This knowledge comes from building a relationship and understanding of what each client requires. It's great to be part of a business that is constantly evolving and striving to offer more than the average services provided by other firms. My role has already changed so much in the two years I've been with ADVO and I can't wait to see where I am in the next two!
Account Manager Nadiya Gregory, who was 'highly commented' at this year's event with Jamie Tuffield, also commented
"Throughout my four years at ADVO I have worked within different departments dealing with a wide range of clients from individuals through to large corporates. A recurrent theme is customer experience and relationships is at the core of what we do. There is very much a team atmosphere everyone takes a keen interest in each other's and ADVO's success. To ensure my clients receive a high quality service I am continually looking for ways to develop my skills and widen my market knowledge".