Neuroleaders deliver leadership and coaching programmes that are underpinned by Neuroscience. The company was founded by Kim Harvey who comments "The scientific evidence that is coming out of neuroscience offers great insight into how our brains fire through fear and motivation and how we can build resilience in our ability to cope with change". In this interview Kim provides her expert insight into the company's recent article titled 'How inspirational leaders create a climate of trust', which looked at the important relationship between a climate of trust and employees feeling empowered as well as how good leadership can itself be learnt from a neuroscience perspective.
You recently commented that trust within organisations is created by managers simply doing what they say they will do, and similarly, that mangers failing to do this can create mistrust. How prevalent do you think it is for managers to fail on the simple principle?
70% of employees leave organisations because of the manager they are working for. Further analysis into the 70% shows that employees do not trust their manager because they are not consistent with following through on promises and over time this causes employees to feel that their manager does not have their interests at stake.
In a neurological or scientific context, what are some of the key benefits in creating a trusting environment for employees?
The left side of the brain deals primarily with facts, rationality and logic. Most of us spend our working days using this side of the brain. The right side is the creative brain and for employees to be creative and innovative, the right side must be activated. The best way to do this is by 'brain based coaching' so that employees can generate 'insights'. Insights are 'aha' moments and they happen when we ask employees for their opinions and ideas and give them time to consider options. So, in summary, we need managers to spend time truly coaching, this means NO TELL and find out what their employees think and feel by asking and listening. Insights will occur when employees feel their manager truly values their opinions and allows them to act on them.
Do you think employers fully realise the extent to which a stressful working environment can damage the bottom line of their business?
No, because if this was the case then people would not be so overworked and under so much pressure. Employers need to think about creating an environment where people feel trusted and can openly make comments about the business without 'fear'. When 'fear' is apparent then the brain pulses cortisol around the body, which creates stress and if this continues causes employees to go off sick. This has massive implications for the bottom line results of the business.
You also recently discussed some of the differences between 'foreground' and 'background' conversations. What are the main differences here and what is the negative significant of prevalent background conversations in the workplace?
Foreground conversations are those that take place in the meeting. This means everything that needs to be discussed is open and honest within the meeting. Background conversations are those that happen outside of the meeting because employees did not feel open enough about discussing it in the meeting. The problem with too many background conversations is that they creates rumours and ill feeling amongst colleauges and if this persists it creates a culture of distrust and rumour. Not a healthy environment to build trust and empowered teams!
What is meant by the term 'neuroplasticity' and how can this be applied to business leadership?
Neuroplasticity is the brain's ability to learn new behaviours. 'Neurons that wire together fire together'. This means the brain has the ability to over-ride existing behaviours and replace them with new ones. On average it takes around 8 weeks of continued new behaviour for the new wiring to take place. The great news is that we can all learn new ways of behaviour so we are not stuck with our old patterns that may be disruptive and counterproductive for ourselves and others. Learning to take on a new positive behaviour such as 'coaching' as a manager and taking the view that employees really have answers to their own problems would be a great behaviour for managers to take on. Remember this has to be for at least 8 weeks of conscious behaviour to make the change permanent within the brain.
Do you think the UK workforce is experiencing an increasingly stressful working environment. If so, do you think this is purely down the management or are there other applicable external factors?
We live in a VUCA (volatile, uncertain, complex, ambigious) world and no doubt the business environment is causing employees and managers to be stressed. There is more to be done with less people and this in itself causes more pressure. However, I think it is the responsibility of management to get the best out of their staff to meet the business challenges. This can be done by creating a culture of trust and empowering employees to get on with the job in hand. The need to take risk is also important because without it you don't really learn and move forward.
You have four top tips for business leaders to create a climate of trust. Is there any one of these that you would value as the single most important principle, or are they equality important?
I think they are all important but if pushed, I would say 'do what you say you will do'. You build a reputation of being honest and people will know that you will follow through. Once this happens then trust starts to be built within the workforce.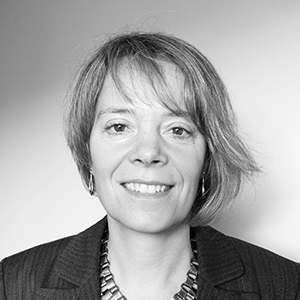 Above: Kim Harvey, Neuroleaders
For more information on Neuroleaders visit www.neuroleaders.co.uk