The finalists for one of the protection industry's premier events, the COVER Excellence Awards, has been announced with advo recognised for its work on employee benefits and advising clients on healthcare.

The Cover Excellence awards aims to 'celebrate the leading firms and intermediaries within the protection, life and health insurance space'. The awards that recognise both providers and advisory firms, and are judged by a panel of  chosen by a panel of top industry experts, will this year be a 'virtual' ceremony held on the evening of the 10th November 2020.
advo are finalists in two of the nine categories, the 'Best Healthcare Intermediary' and the UK's Employee Benefits Intermediary for the Year for 2020.
Commenting on advo's success advo's Executive Director, Colin Boxall commented "advo is up against stiff competition but looking back over the last year, and in particularly how we have continued to support clients during lockdown, we are looking good in both categories. Last year advo was fortunate to win the Employee Benefit's Intermediary of the Year category so fingers & toes are crossed for this year."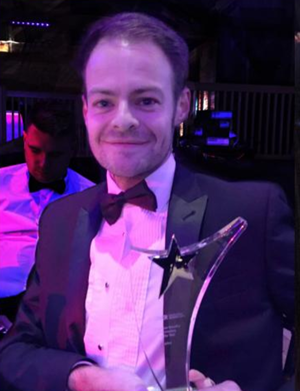 Jamie Tuffield picks up the UK's Best Employee Benefit's Intermediary on behalf of advo at the 2019 awards.
Colin added "In March, advo, along with the rest of the UK was in lockdown and likely to remain so for the foreseeable future. The shortlistings for the two awards is testament to how our staff have continued to deliver excellent service despite such challenging conditions. It is because of them that advo has not only survived lockdown, but thrived."
You can find out more about the Cover Excellence Awards here.