The Association of British Insurers (ABI) has confirmed expected increases to families from the latest hike in Insurance Premium Tax (IPT).
The ABI has calculated that the new increase, that applies from 1st June 2017, could add an extra £47 to the average annual household bill and the rise will be felt the hardest by those paying higher premiums, including young drivers and those with private medical insurance. With IPT having doubled in under two years, ABI calls for a freeze on this raid on the responsible.
The ABI believes that hard-pressed households will face a further squeeze on their family budgets when the latest increase in the government's Insurance Premium Tax (IPT) to 12% comes into effect on 1 June, only eight months after it rose to 10%. The tax is payable on most general insurance policies including home, motor, pet, private medical insurance, and cash plans taken out by individuals, as well as commercial insurance taken out by businesses.
This latest increase could add an extra £47 to the average household's annual general insurance bill. Overall, the current rate of IPT at 12% could now be adding an extra £283 a year to a typical household's annual insurance bill as the rate has now doubled since November 2015. This latest hike will mean that the Government will rake in £5.8 billion a year from IPT.
This latest rise comes at the worst possible time, with average insurance premiums rising due changes to how personal injury compensation is calculated, rising repair bills, and a resurgence in whiplash-style claims.
The ABI says that insurance customers who pay higher premiums will be worst hit. For example:
Young and older drivers who tend to pay more for motor insurance. A typical 19 year old driver for example could see their annual motor premium increase by £20 following this latest rise.
Those with private medical insurance and cash plans could face an extra £39 a year on their premium.
Businesses will also be hit – the 12% rate could add an extra £300 in commercial insurance premiums
How IPT is contributing to higher premiums: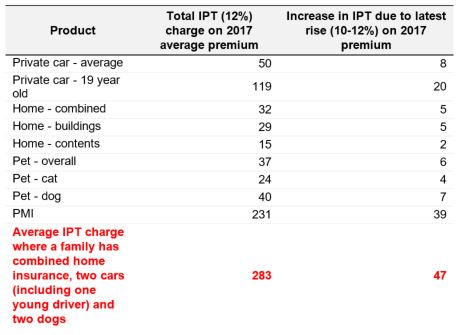 James Dalton, Director of General Insurance Policy at the ABI, said:
"With a doubling of IPT in just under two years it is time to call a halt to this raid on the responsible. This tax penalises hard working families, as well as businesses, who have done the right thing by taking out insurance to protect against many of life's uncertainties. This latest hike must be the last. The next government must freeze this tax, to give hard working households and businesses a break."
advo has covered the IPT story closely because of the impact on many of our clients. Links to other IPT news stories are shown below:
Proposed increases to the UK's fastest growing 'stealth tax'
You can help the government to listen, you can help to remove the UK's "fastest growing stealth tax"
advocate Magazine (issue 21) article
Notes: Insurance Premium Tax was first introduced to the UK in 1994.
From 1 October 1994, a single rate of 2.5% was charged
1 April 1997: increased to 4%
1 July 1999: increased to 5%
4 January 2011: increased to 6%
1 November 2015: increased to 9.5%
1 October 2016: increased to 10%
1 June 2017: increased to 12%
You can view the ABI's full press release here.