80% of female workers in the UK feel that gender discrimination in the workplace exists with two thirds (66%) of young workers saying they've experienced gender discrimination at first-hand.
The findings were highlighted in the Investors in People's 'Perceptions of Workplace Gender Discrimination 2018' poll where their research also pointed to nearly three quarters of the entire workforce asserting that gender discrimination is still present.
This year's findings also demonstrated a worrying trend among young people, 88% of whom think that workplace gender discrimination is an issue. Given that the gender gap also widened by 0.3% to 32% for the first time since the World Economic Forum began reporting, the gender parity issue shows no sign of dissipating for the next generation.
Investors in People Chair, Valerie Todd CBE: "The results of Investors in People's Perceptions of Workplace Gender Discrimination 2018 reveals that an unacceptably high proportion of women feel that gender discrimination exists. The fact that nearly half of female workers have experienced this sort of discrimination shows that there is still more to be done in ensuring that workplaces across the country are providing fair and inclusive environments for all workers, regardless of gender."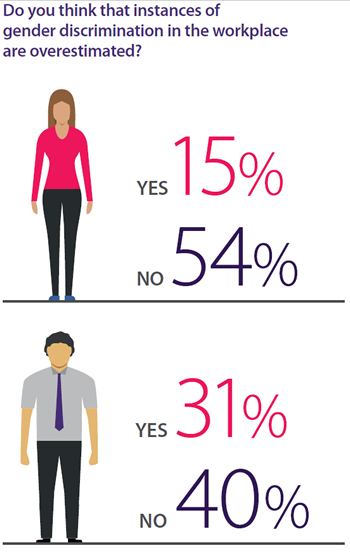 The survey also revealed interesting insight into perceptions of how saturated workplaces are with examples of discrimination. Investors in People found that men are more than twice as likely to say that instances of gender discrimination in the workplace are overestimated (31% of men to 15% of women), whilst also suggesting that the majority of workers (60%) would find it unusual for a man to take more than 2 weeks paternity leave; a figure that hasn't moved since IIP's research in 2016.
Respondents were also asked which sectors they would consider a career in, which produced clear gendered preferences:
Men are three times more likely to consider a career in manufacturing that women
Women are nearly three times more likely to consider careers in the health and social services sector
Investors in People CEO, Paul Devoy: "Our findings reveal that there is still much to be done in tackling gender inequality. The fact that there are visible gendered preferences in sectors like manufacturing and social care, coupled with the vastly different perceptions in the way that men and women view gender discrimination in the workplace, suggests a serious lack of communication in some areas. For the UK to truly unlock a prosperous, fair society for all, we must bridge the gender gap as soon as possible."
Paul continued: "With just 51% of workers agreeing that their workplace has a culture of encouraging gender equality, Investors in People wholeheartedly supports the work of the International Women's Day movement as they continue to press for progress in the achievement of true gender parity."
Download the full International Women's Day report here:
Notes on IIP's research
A poll of 1000 men and 1000 women full time workers in the UK was launched in January 2018. Data was captured via an online survey carried out by research organisation One Poll. This data was then used to inform the findings presented in IIP's 'Perceptions of Gender Discrimination in the Workplace 2018' poll.

    advo group is an IIP Gold employer.