There are upcoming changes to legislation which due to take place in April 2020. advo hr draws attention to these and explains action that needs to be taken. 
There are a number of changes to employment legislation coming into force. A separate notification email will be sent out from advo hr to our clients, with further details on any changes required for HR documentation but in the meantime please find a summary of the changes below:
Parental bereavement leave rights take effect. Following the loss of a child under the age of 18 or a stillbirth after 24 weeks of pregnancy and with 26 weeks' continuous service, employees will be entitled to two weeks paid leave at the statutory rate and other employees will be entitled to unpaid leave. Employers should implement a written policy.
Extension of the rights to a written statement for all workers from their first day of employment (including employees). Therefore, employers should consider their recruitment process allows for contracts to be issued before or on a new joiner's first day of employment.
Amendments to mandatory information required within a statement of main terms and conditions also comes into force. Employers will need to review current template contracts and recruitment processes to ensure all required information is included within their contracts.
Any part of a termination payment over the sum of £30,000 will be subject to employer NICs.Employers should ensure their payroll team/service are aware of the change.
Increase in the holiday pay reference period used for determining a week's pay when calculating holiday pay from 12 weeks to 52 weeks for those with irregular hours. The reform is intended to improve the holiday pay for seasonal workers, who tend to lose out over the way it is currently calculated.
Introduction of Agency Workers (Amendment) Regulations 2019, abolishing 'Swedish derogation' for agency workers.This gave employers the ability to pay agency workers less than their own workers in certain circumstances. Under the derogation, agency workers could exchange their right to be paid the same as directly recruited employees for a contract guaranteeing pay between assignments. The legislation banning this type of contract is intended to prevent agency workers losing out on their equal pay rights. By no later than 30 April 2020, temporary work agencies must provide agency workers whose existing contract contains a Swedish derogation provision with a written statement advising that, with effect from 6 April, those provisions no longer apply.
New law requiring recruitment businesses to provide all agency workers with a Key Information Document takes effect. This should include information on the type of contract, the minimum expected rate of pay, how they will be paid and by whom.
IR35

(amended information)

was to come into force this April but is now delayed by 12 months as part of the government's Covid-19 economic response package.This is now due to be implemented in April 2021. 
Statutory rate updates
Our popular and informative key facts brochure will be updated with the new rates and sent to all clients for reference, however the main rate changes are as follows:
National Minimum Wage
The new National Minimum/Living Wage will increase from 1st April 2020, as follows:
Workers aged 25 and over – £8.72 an hour (National Living Wage)
Workers aged 21-24 – £8.20 an hour
Workers aged 18-20 – £6.45 an hour
Young workers aged 16-17 – £4.55 an hour
Apprentice rate (workers under 19 or in first year of apprenticeship) – £4.15 an hour.
Family rates
The following statutory pay rates have also been proposed for 2020, and are effective from 5th April:
Statutory Maternity Pay – rises from £148.68 to £151.20 per week
Statutory Paternity Pay – rises from £148.68 to £151.20 per week
Statutory Adoption Pay – rises from £148.68 to £151.20 per week
Shared Parental Pay – rises from £148.68 to £151.20 per week
Statutory Sick Pay
This is effective from 6th April 2020.
Statutory Sick Pay – rises from £94.25 to £95.85 per week
advo hr support includes additional support including easy fact-guides. Please contact us if you would like a copy.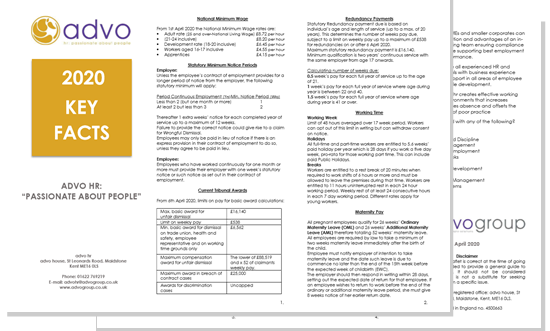 advo hr is here to help. If you need support on this, or any wider HR related topic then please get in touch. In the first instance email hrexperts@advogroup.co.uk.